OUR STORY
In 1986, Russ Heissner came to Boston to be the first head brewer at Harpoon. In 2016, a new brewing adventure began in Weymouth, MA.
The BHZ team brews small-batch, barrel-aged beer that's created collaboratively with an ever-changing roster of innovative brewers. Our philosophy, however, never varies. We believe the best beer comes from exceptional ideas & ingredients–and is guided by rigorous technique.
Our pilot plant is in constant motion. We tap a new Pilot Pour weekly, which means you'll find 10 to 12 amazing brews in our tasting room. Always something new. We also brew beer for draft & bottles.
PILOT POURS | On Tap
An ever-changing series of beers from our pilot plant. Great beers come, stay a while, and then new greats take their place.
As a small-batch brewery, this list is happily subject to constant change. Updated: 8/16/19
Release 8/18: Funkin' Feisty PF || Passionfruit Sour Lager 7.2%
Aged in Bully Boy Whiskey Barrels
Tart, fruity + malty. Passionfruit on nose. On palate, you'll get tartness upfront which dives into deep passionfruit profile. Malty backbone.
Sour Patch Summer || Saison 4.7%
In April, we released our first Sour Patch Saison. Big hit. Encore required. For this batch, we explored Sour Patch Watermelon. Expect slightly more melon-y sweetness with underlying citrus notes.
Paradiso || Stout 5.9%
This "tropical" stout refers to the fermentation technique developed in tropical climes, which makes this a great beer for a hot, muggy days and nights. Dry hopped with an innovative new hop that lends traditional hop notes (berry, dried fruit, bitterness) along with the unexpected addition of toasted oak notes. Expect dried fruit, vanilla, and bourbon flavors.

Crizpy Boy 5%
Perfect lawnmower beer for doggo days of summer. Our take on popular Crispy Boys. Super crisp and refreshing. Sessionable. Slightly breadiness. Light hop character, but still a good, balanced bitterness.
Rosé Wit || Rosé Witbier 4.8%
Collab with our friends at BeerWorks. Slightly dry in body with soft wheat character for balance. Summer-y combo of floral + citrus flavors. Hint of earthiness, rounded out by slightly fruity yeast character.
Spruce Willis || Spruce Tip IPA 6.2%
Cascade + spruce tips in the kettle. Dry hopped with Azacca. Beautifully hazy honey color. On the nose: pine and apricot. On the palate: smooth drinking with notes of apricot, berry, citrus peel, candied pine, and a mild resinous finish.
Coldwater Crisp Apple Crisper || Pale Ale 4.3%
Cousin to Coldwater Crisp Peach Cobbler. On the palate, notes of sweet, caramel malts, super-crisp apple, hint of spice, and breadiness. Great full body from oats and lactose.
Acapulco Gold || Double IPA 9.2%
Tequila Barrel Kissed
Great collab with Curtis Liquors. Pale malt, malted rye, malted red wheat, CaraRed (light German crystal). Brewed with Columbus and Chinook hash. Dry hopped in Herradura Reposado Tequila barrels with Chinook, Columbus, Summit, and Pacific Jade hashes. Flavor profile: assertive bitterness, resiny, dank, citrus, pine, slightly herbal.
BHZ 3rd Anniversary Belgian Tripel 9.6%
Aged in Bully Boy Rum Barrels
Our birthday brew is lightly hopped, with a fruity, honeyish aroma. Aged in beautiful Bully Boy Rum barrels for additional notes of vanilla and black strap molasses.
Boss Bock || Dunkel Bock 7%
Last March, we held a MA home brewer's competition and Jeremy Adams' dunkel bock took first prize. His recipe was inspired by a visit from his boss, a craft beer fan who loves Dead Guy Ale. Appropriately named Boss Bock, this beer has great malty aroma and flavor. Munich and Maris Otter used as base malts, with Simpson Double Roasted malt lending caramel roastiness.
B3 || Coffee Milk Stout, ABV 6.4%
Beans, Barrels, Barely ... ain't nothing better! Inspired by Cape Cod Coffee beans that we aged in a beautiful rum barrel. After fermentation, the beer was conditioned on these beans. Expect roasted coffee with hints of cocoa on the nose. On the palate, creamy full body, big flavors of coffee and Bakers chocolate, notes of vanilla, caramel, and char.

Spaghooty Grisootty || Grisette 3.9%
Light-bodied cousin of the saison, this Belgian brew has a big flavor profile. Biscuity malt character with subtle smokey notes from barley malt smoked over alderwood. Clean, peppery finish.
Bamboozled By Hops | IPA BATCH #4 ABV 6.7%
Batch #4 in our rotating-hops IPA series. Dry hopped with El Dordado and Amarillo. Expect BIG citrus notes: orange, grapefruit, and lime
Coldwater Crisp | Peach Cobbler Pale Ale 4.3%
Coldwater Crisp first came into this world as a taproom Pilot Pour last summer. It's inspired by peach crisp & all its creamy, peachy goodness. Aroma of honeyed granola and sweet malt. Notes of stone fruit and vanilla. Lactose added for luscious, full-bodied character.
Sunny & 79º | Pilsner
S79 marries a traditional pilsner style with summer's most memorable flavors. Dry spiced with juniper berry, citrus peel, coriander, and cardamom. Two releases.
ITB (In the Buff) 5.4%
Tequila Barrel Aged 6.8%
Sunny & 79º Radler 4.9%
Sunny & 79º ITB with sparkling grapefruit San Pellagrino
Sunny-Rita 6.4%
Sunny & 79º Tequila Barrel Aged beer with a nice pour of agave nectar, lemon & lime

NOT BEER, BUT GOOD TO DRINK
maine root| root beer & orange
spindrift | sparkling water
Fat Pretzel warm pretzels w/ choice of sauces
Sarcastic Swine smoked chicken wings w/ choice of sauces [WINGS ON WEDNESDAY $5/ORDER]
Bamboozled By Queso dip & tortillas
MORE THOUGHTS ON FOOD:
We try to schedule food trucks or pop ups on FRI & SAT nights. Check our calendar for details. Also, you're welcome to bring/order-in food. We've got great recommendations for local spots that deliver. Just ask our servers!
Barrel House Z Taproom Hours
WED/THURS 4-10pm
FRI 2-10pm
SAT 12-10pm
SUN 12-8pm
BEER TO GO! MON + TUES 4-7pm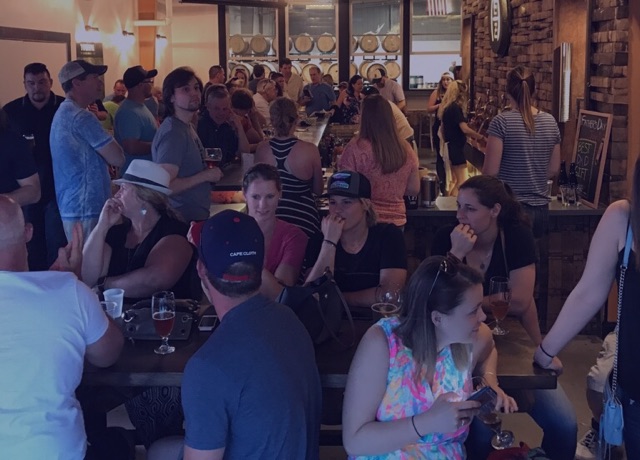 Subscribe to the BHZ email list for new beer releases, special events, and more!
EVENTS
BHZ is a great place to get together with friends|family|co-workers. A few ideas of what we can do:
PRIVATE EVENTS: Our taproom alone is able to hold 50 people and we can accommodate up to 100 with use of brew floor space and patio (weather dependent). You are welcome to bring in your own food or caterer. By law, no other outside alcohol is permitted. Fully private events have access to our large screen projector with Chromecast. Musicians are welcome or you can choose the best music for your event using our Sonos system.
Private Rental Available:
Monday/Tuesday 11am – 11pm
Wednesday/Thursday/Friday 11am – 3pm
Sunday 6 – 8pm
Cost is based on a bar minimum.
GROUP RESERVATIONS:
We're able to reserve tables and space for groups of 10-30 people during regular business hours within the following time slots.
Reservation Availability:
Wednesday/Thursday 4-10 pm
Friday 2-6 pm
Saturday noon-2pm
Sunday noon-5pm
Be the first to know what's what at BHZ by signing up for our email list.
Address:
Barrel House Z
95 Woodrock Rd
Weymouth, MA 02189
General Inquiries
beer@barrel.house
Phone
339-201-7888
GIFT CARDS AVAILABLE
Interested in holding an EVENT at BHZ?